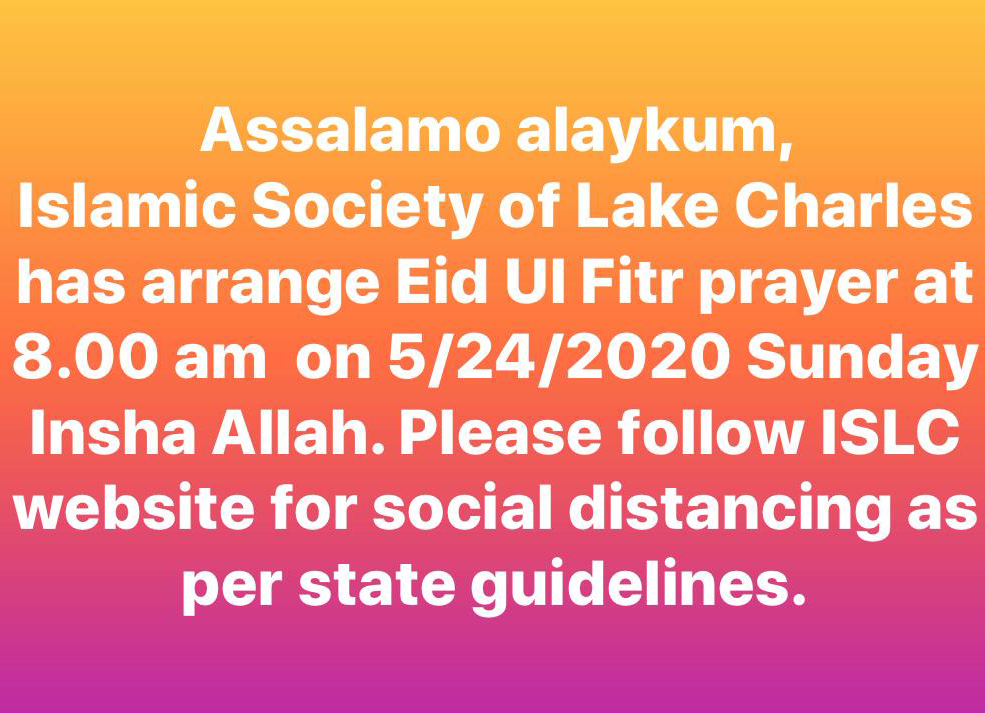 Eid Sunday – May 24 8:00am with mandatory guidelines below
No moon sighting reported Friday night.
السلام عليكم ورحمة الله وبركاته
Eid ul Fitr , 2020
1- Eid namaz will be at 8 am sharp and will finish at 8:20am , ان شاء الله ﺗﻌﺎﻟﯽٰ.
2- Eid namaz will be in main parking area , weather permitting .
3- If , rain on Eid day then , inside prayer areas will be used .
4- Same social distancing and state guidelines will be used , which are being enacted for Friday and daily prayers .
5- Every one should bring their own prayer mats and face masks .
6- Family members can sit together with six feet distance from rest of the congregation.
7-Women and children are also welcome .Few family spots will be marked along with individual spots .
8- Unfortunately There will be no traditional breakfast due to ban on Buffett system due to concern about social distancing but light snacks will be provided .
9- As Main parking lot will be used for Eid prayer , and there is already shortage of parking due to construction,each family should try to come in one vehicle .
10 – Please cooperate with volunteers.
11- Keep social distancing while entering and existing the ISLC center .
12- Moon sighting committee comprising Imam/ Gul Awan / Tariq khan will be assisted by Dr Majid Nazim , who has expertise in Astronomy.
13- Please drop your Zakatul Fitr , which is minimum 10$ person in the designated portion of the donation box in the main entrance area of the Masjid before Eid day , so that It can be distributed to deserving local persons before Eid .
14- Eid party is suspended until clearance from Governor office .
Attendance for the Eid prayer is purely voluntary and ISLC or any member of the Board or Imam can't be held liable in any court of law for any mental / physical / or medical harm , including potential Covid 19 infection to the attendee , which could be attributed to the presence of attendee on the ISLC property.
ISLC board request for your full cooperation and understanding .
جزاک الله خیر